The Ferosafe lock box is the first light weight container lock box to provide a high level of resistance against angle grinders and carbide drills during theft.
This is achieved by using Ferosafe Anti-Cutting Technology, based on Ferosafe – the next generation physical security material – which has been specifically designed to defend security products from physical threats.
The Ferosafe lock box effectively resists more than 10 grinding discs and surviving more than a battery worth of angle grinder attack without exposing the padlock. This makes it one of the most secure container lock box on the market. The padlock is fully enclosed and only accessible from underneath.
The lock box is designed to withstand long life exposed to the elements and is constructed from galvanised steel which has been powder coated to provide weather protection.
The Ferosafe lock box is offered with two fitting options – left hand and right hand fitting.
Size: 120mm (H) x 170 mm (W) x 50mm (D)
Available in left hand and right hand door fitting
Ferosafe Anti-Cutting Technology
Resists an angle grinder attack of more than 10 grinding discs and one battery
Can be retrofitted
Galvanised steel and powder coating provides weather protection
Drill template and bolts included for quick and easy fitting
Can be welded to container if preferred
| THICKNESS (mm) | WIDTH | LENGTH |
| --- | --- | --- |
| 4 | 8 | 40 |
| 4 | 15 | 40 |
| 4 | 25 | 60 |
| 4 | 40 | 40 |
| 4 | 8 | 200 |
| 4 | 15 | 200 |
| 4 | 25 | 200 |
| 4 | 60 | 200 |
| 4 | 200 | 200 |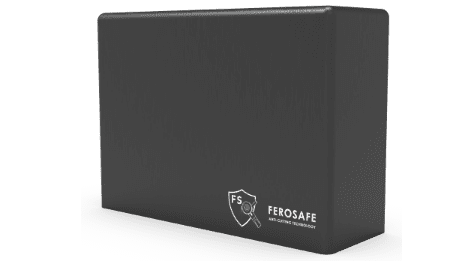 Why are our lock boxes important?
With Angle grinder crime now a real issue, brazen thieves are openly using angle grinders and other portable, battery-powered power tools to cut locks in busy public areas, in broad daylight. Alongside this, container storage thefts are also on the rise, with the container lock box a key target area for thieves.
Now is the time to upgrade the physical security of your storage container, with the Feorsafe lock box!
Our lockboxes can also be used on cabinets for telecoms and battery storage where angle grinder and drill attacks are becoming commonplace. We manufacture in the UK but have supply globally and have shipped this year to customers across the globe, including North America, Australia, and Africa.
We invite you to see for yourself the extreme cutting resistance provided by our container lock box by viewing the video at the bottom of this page.
Please get in touch with any queries or extra information you may require. Our technical sales advisors will happily be on hand to assist.
For more information, to order or speak to a member of our product team